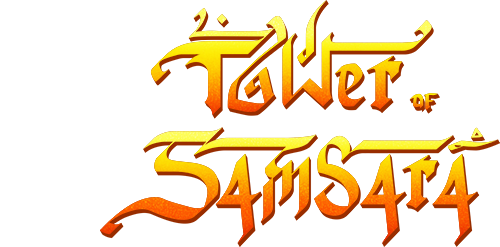 Tower of Samsara
Tower of Samsara is a pixel art adventure game
Its a journey in which the player will seek spiritual ascension
---
Tower of Samsara is a transfiguration

The player, longing for interior peace,
will undergo demanding challenges
that will ceaselessly test
his ascent towards Nirvana.
---
This epic journey will lead
to different planets
each being a representation
of a karmic state of the being
thus moving from infernal worlds
such as The Realm of Matter
to worlds that are closer to the divine
until reach of imperturbable awareness.
---
In these worlds there will be uncountable
obstacles and envious entities that will
try to steal your inner light.
Every obstacle we face in our journey
represents an opportunity
to overcome ourselves and our limits
understanding good and evil
two sides of the same coin
just like yin and yang.
Once the correct path is clear
the player will increase his karma
letting him continue his ascent.
---
The game features detailed high-res pixel art graphics, with immersive ambients, a lot of particles and 2D dynamic lightning.

---
BE the character and live an epic adventure - Full movement platform-fight adventure
EXPLORE planets of the solar system - Enormous hand-made scenarios
FIGHT dozens of enemies and gigantic bosses
FIND relics embedded with good karma - Hidden & Puzzless
SHARE your poetry with other players - Similar to Demon Souls, share a haiku with players that pass through the same spot
---
We'd like to announce that the game will be on kickstarter on May 3 2016
You can already bookmark this link: http://www.towerofsamsara.com/kickstarter

(Currently there's only a countdown, but it will redirect to the kickstarter page when the day comes)

---